About Us
We are a full service travel agency, dedicated to providing you the best service, at the best price.
Our agents are certified in a variety of areas including; multiple cruise lines, Mexico, Hawaii, Las Vegas, Europe, River Boat Cruising, and much more.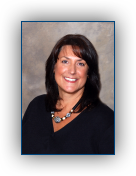 Theresa Fitts
Travel Specialist
"Let me search for the best price and customize a package to fit your needs"
• Weddings
• Honeymoons
• Eco / Adventure
• Religious Travel
• Individual & Group
• Cruises
• Business Travel
• Fundraisers